About Stone Maintenance
Stone Galleria is working with Solutions Sealers in stone care products.
Solutions Sealers is Australian Product manufacturer that produce a variety of quality sealing products to protect and enhance masonry surfaces including Natural Stone, Pavers, Pool Tiles, Porcelain tiles and grout.
Product Range :
Coatings: Including both solvent based solutions and water based emulsions.
These products soak into the pores and build up on the surface – acting as a physical barrier to prevent water, oil, and dirt from entering the pores.
Coatings will give a glazed appearance on the surface and should only be used on relatively porous surfaces such as slate, sandstone and concrete.
Penetrating Sealers : Are based on state of the art technology from around the globe. The products deeply impregnate the pores and generally leave the stone/tile unchanged in appearance.
The resin lines the pores of the substrate and created a multi-dimensional network which repels the water and/or oil (depending on the resin). Because the prose is lined, not filled, it allows water vapour to escape (allowing the stone/tile to breathe) while providing protection from surface staining.
Cleaners/Solvents : Cleaning prior to sealing and ongoing maintenance is vitally important to get the maximum performance from the sealers.
Solutions Sealers cleaners are designed for stone and tile surfaces and also for cleaning sealed surfaces. Their solvents and strippers are proven for maximum effectiveness is this market.
New Bio-Safe Technology : Is the environmentally friendly alternative to petro-chemical solvent based sealers – but still with the same high level of penetration and performance of their regular penetrating sealers.
Important Information
This product complies with the environmental standard GECA 23-2005- Architectural & Protective Coatings.
Solutions Sealers have a wide range of products, for example:
Pristine Natural Sealers and Pristine Bio – Safe
Plus Natural Sealers and Plus Bio – Safe
Protex Dense Stone Sealer – Protex Bio – Safe
Quantum Commercial Grade Sealers
Consolidate Stone Sealer
Silcopel Water repellent
Silacryle Wet Look
Others
These products aim to protect and enhance many surfaces, including:
Marble
Granite
Limestone
Sandstone
Slate
Travertine
Pavers
Porcelain
Quartz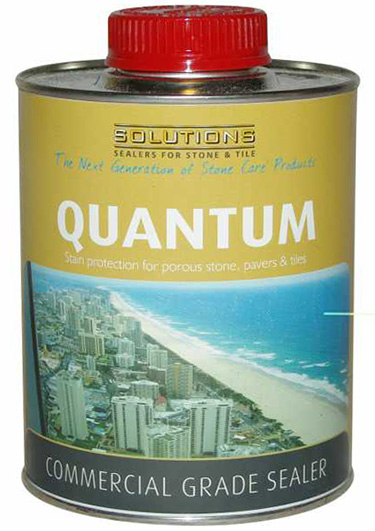 ** For further information, please visit Solutions Sealers at: www.solutionssealers.com.au